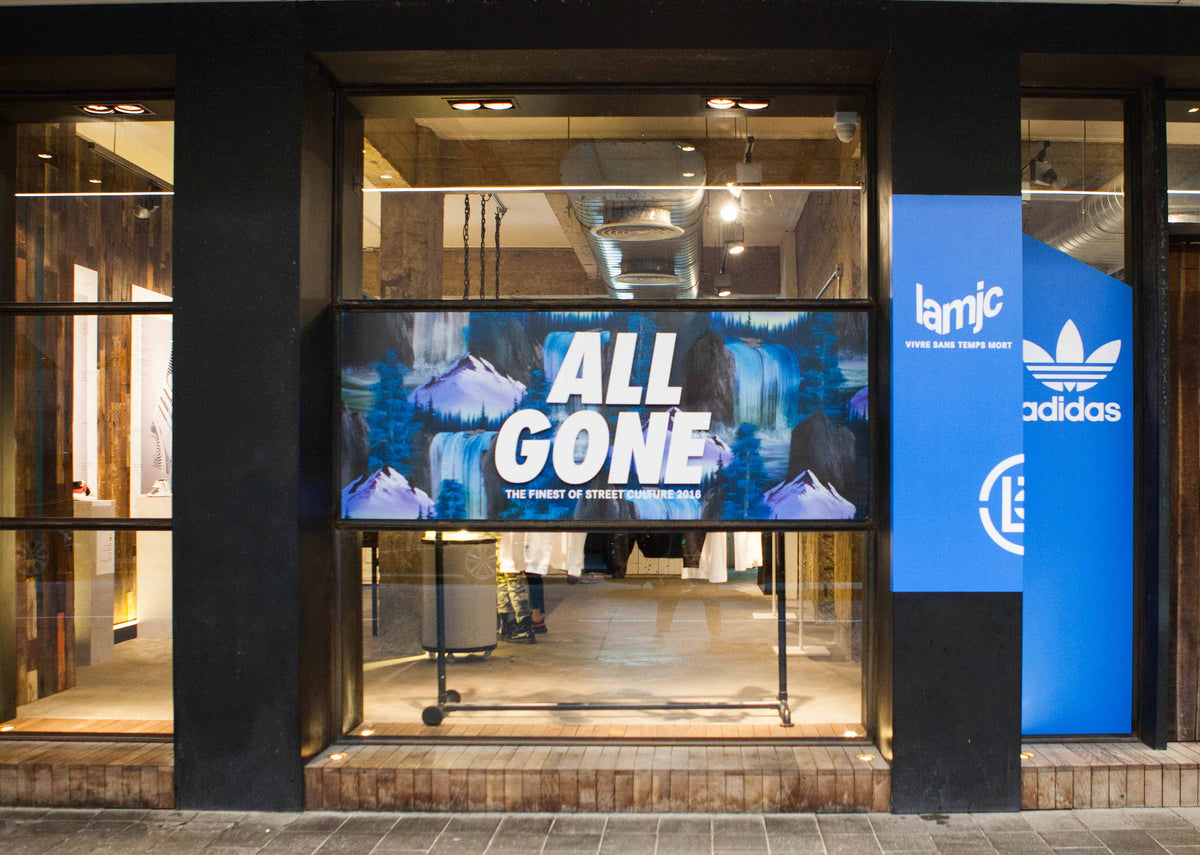 "ALL GONE 2016" in Hong Kong, Shanghai & Chengdu
Every year since 2006,  ALL GONE has documented the most important and sought-after releases in street culture. Originally conceived by Michael Dupouy and published every year by La MJC,  ALL GONE is a comprehensive chronicle of street culture. The latest edition — a recap of 2016 — features an extensive selection of the year's most sought-after collaborations, special releases, art pieces, and more from brands and individuals like CLOT, adidas, Nike and more.
To mark the launch of "ALL GONE 2016" in Asia, Michael Dupouy decided to come to Hong Kong, Shanghai and Chengdu to celebrate with friends and fans of ALL GONE. CLOT teamed up with Michael Dupouy and La MJC to create a capsule collection of apparel. The release consists of a white short-sleeve T-shirt, a hoodie in two distinctive white and black colour ways and a black tote bag. The t-shirt and hoodies feature the "ALL GONE- The Finest of Street Culture 2016" logo on the back in the colours of this year's ALL GONE cover, along with the CLOT and La MJC logo on the sleeves. Similarly, the black tote bag features the "ALL GONE- The Finest of Street Culture 2016" logo on the front and the CLOT and La MJC logo on the back of the bag. The CLOT x ALL GONE capsule collection is now available at JUICE HK, JUICE TST and THE BOX Sheung Wan in a very limited amount!
CLOT presented the "ALL GONE 2016" Book Signing Event in Hong Kong on March 24 at 8pm at JUICE HK in Causeway Bay. Industry friends such as Hilary Tsui and Vlad Elkin, dropped by to show celebrate with Kevin Poon and Michael Dupouy. Special thanks to adidas for sponsoring the Hong Kong event.
Following the event in Hong Kong, Dupouy travelled to Shanghai on March 25 and Chengdu on March 28 for additional book signing. Poon and Dupouy were welcomed by many Chinese fans in both Shanghai and Chengdu. Famous artist KAWS surprised everyone by showing up at the Shanghai event. Thanks to Converse for sponsoring the book signing in Shanghai and Asics Tiger for partnering up with the Chengdu event.  It's been such a huge success for this coveted release of 《ALL GONE》in Hong Kong and China. A huge thank you to all our friends and fans who came to support the event. 
See you next year!