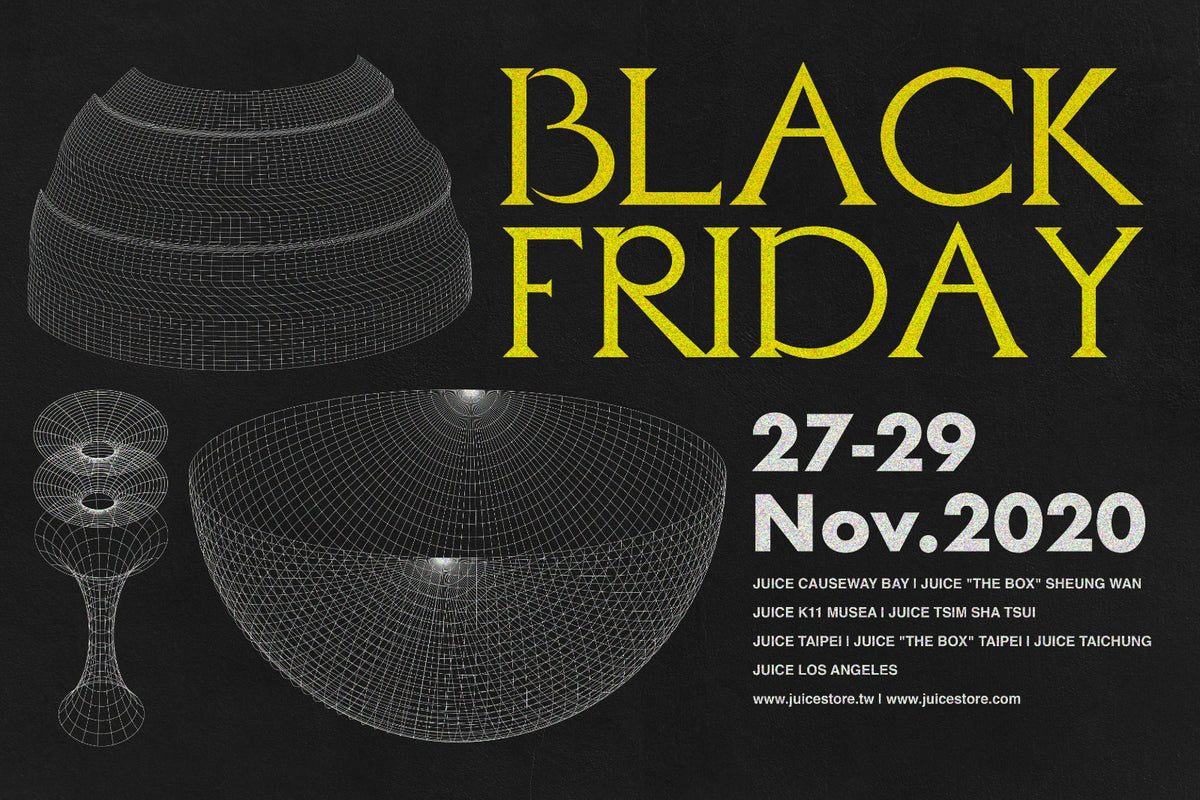 BLACK FRIDAY 2020 DEALS AT SELECT JUICE LOCATIONS WORLDWIDE!
 BLACK FRIDAY SALE STARTS NOW! Head to JUICE Hong Kong, JUICE Taiwan, JUICESTOREUSA.com. JUICESTORE.tw and JUICESTORE.com to enjoy the amazing Black Friday Deals on all of your favorite streetwear and menswear apparel!
Enjoy up to 30% off on selected items from brands including A-Cold-Wall*, CLOT, NEEDLES, AMBUSH and more.
Early-access at JUICESTORE.com

Starting today, November 25,  JUICESTORE.com is giving you 2-day early-access on our Black Friday deals with select items at 30% off!

JUICESTORE.com BLACK FRIDAY SPIN-TO-WIN! 
Here's your chance at cash coupons, free shipping and discounts!

Customers who make a purchase (with no minimum spend) will get to spin our BLACK FRIDAY Bonus Wheel upon loading the order confirmation page

Black Friday Secret Draw

Purchases over 2000 HKD will be entered into our Black Friday Secret Draw for a chance to win prizes like sneakers, mega cash coupons and more!
Those that enter may also get a chance to purchase SOLD-OUT EXCLUSIVE ITEMS with a selection available at Black Friday prices!

Double your chances with more than one entry! Each order over 2000 HKD counts as 1 entry in our Black Friday Secret Draw.

Results to be announced on JUICESTORE's Instagram Stories on Cyber Monday (November 30) and winners will be notified via. email!
 
JUICESTOREUSA.com
Between November 27 to November 29, shoppers can enjoy up to 20% off select items!

JUICE Hong Kong, JUICE Taiwan & JUICESTORE.twDuring 
Starting November 27, head to the locations below to enjoy 30% off select items!

ADDRESS:
JUICE Causeway Bay
JUICE Tsim Sha Tsui (Minden Row)
JUICE "The Box" Sheung Wan
JUICE K11 Musea
JUICE Taipei
JUICE "The Box" Taipei
JUICE Taichung 
JUICESTORE.tw

JUICE HONG KONG LUCKY DRAW
Shoppers at any JUICE HONG KONG location who make a purchase of 2000 HKD or more will be eligible to join the LUCKY DRAW at JUICE Tsim Sha Tsui (Minden Row) between November 27 and November 30.
Participants will have a chance to buy SOLD-OUT EXCLUSIVE items like CLOT Silk Royale x Modernica Chairs, CLOT x Polaroid 600 Camera, CLOT x G1950 Logo Rug, CLOT Black Silk Thermos and more!