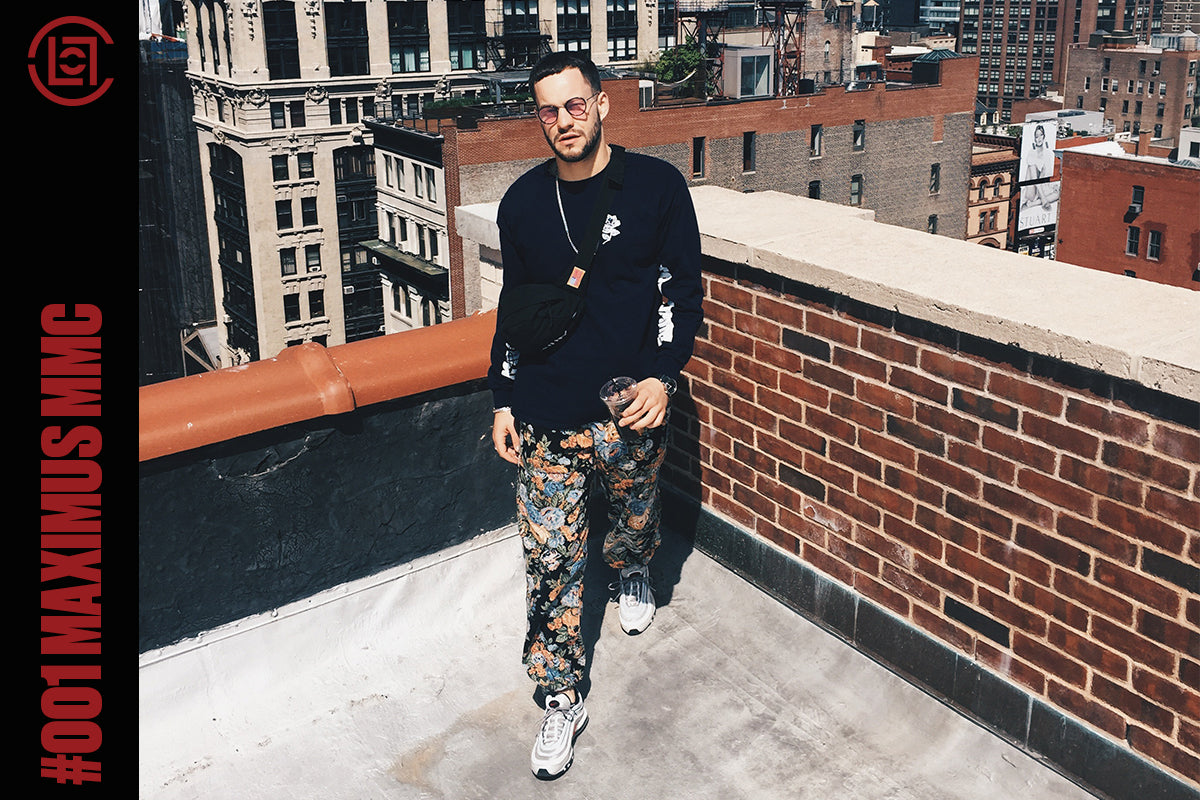 CLOT MIX #001 - MAXIMUS MMC
In our first ever CLOT MIX series, we profile our first guest Maximus MMC, a Parisian DJ and producer who just recently moved to Hong Kong - but has already made his rounds in the local music scene. French through and through, Max (or Maxime, if we're being proper) is actually a programmer by day, before spinning parties by night. His affinity for computers was a result of growing up on the internet - it's actually where he found he could merge his two passions - technology and music.
Growing up, he never thought that music was a legit career path, until he found like-minded individuals on the internet from all over the world. Now, Max is literally linking and building IRL with renowned music collectives and other audiophiles from all over. From his own label (that he founded with his internet friends) Flow-Fi, to spinning at Yeti Out parties, get to learn a little more about Max with us.
Where did you get your name?
Well, Maximus is just a play on my name Maxime. The MMC part, when I was in school at the Netherlands, I was thinking of how to make my music name more interesting, and then I saw a bus stop called MMC. I thought to myself, "Maximus MMC!" so I went with that. It wasn't until after that I decided to research what MMC actually is… it's actually some sort of medical centre.
How did you join Flow-Fi?
Back in 2013, I used to send my own beats to Complexion, a DJ who runs a show called "The Future Beats Show" on a London-based FM radio. This was the first time I was trying to push my music out and I was pretty stoked hearing my songs being played on a FM-radio with a large audience. This audience were made of either music diggers or bedroom producers that were, like me, trying to push their sounds out. Twitter was the main platform used to connect and exchange thoughts / shoutouts and that's how I got to meet fellow (at the time) bedroom producers aywy (AUS), subdaio (NJ, USA) and Fortune (LA, USA). We started kicking it over Skype, playing Fifa on PS4. Within a few weeks, they eventually asked me if I was down to join their about-to-be-created label called "Flow Fi" and asked me if I'd be keen to re-release this track of mine called "Cherry Blossom Wind Dance" from my Shenmue EP as Flow Fi's first single... Everything that followed was history.
Why did you move to Hong Kong?
Earlier in 2017, I figured that I was not happy with the life that I was living back in Paris. I felt like I was losing my time living in the same country where I was born and raised. I used to live in the Netherlands for 3 years and I missed being abroad, discovering new cultures and exploring the world. That's exactly when I decided that it was time for me to make a move.
What do you do for a day job?
I work as a Software Engineer for a radio frequency related company, that's the geek side of me. I have always been into computers and coding. Anyways, I was working for the same company back in France and they offered me a new position in HK, which I decided to go for without really hesitating. I am pretty spontaneous when it comes to radical life changes, I love challenges and setting the bar higher.
How does your programming background influence your music?
As funny as it might sound, I consider music production as programming. The way things work to create sounds and compose music have drastically changed in the course of the last decades with the uprising of computers. Most of the instruments have been virtualised, you can pretty much do everything by hand using a mouse through what we call a DAW's (application software's used to record, edit and produce music, e.g. Ableton).
How has your first few months in Hong Kong been?
My first month in Hong Kong was both weird and awesome... Weird as it would be for anyone moving to an unknown territory without knowing anyone... I landed in HK on a Sunday, early morning, I was jet-lagged but also very excited as it was my very first time in Asia. I'm lucky because I have a few mutual friends in the city who were nice enough to take me around. Eventually, I found a bunch of cool people and am still exploring the city and Asia.
What are some of your favourite shows you've done?
Hmmm tough one... In Europe, I'd say that one show I did with Cezaire and Tokimonsta last year in March at Wanderlust, Paris. The crowd really went in and loved my set, it was really fun.
As for Asia so far, I really loved this last minute party that Arthur Yetiout, aywy and I organized last minute at Club Rio, Wan Chai, on the Saturday after Clockenflap last year. It was sort of an unofficial after party, we came up with the idea the night before and we made it happen in the span of 3 hours... This was pretty surreal and people vibed with us till the end of the night.
What's coming up for Maximus MMC?
My main goal right now is to get back into music production. I haven't really done much in the past two years and I really want to get back at it. Moving here allowed me to get heavily inspired, as would do any trip to unknown places. Next step is to build myself a nice home studio that I will use to record music. As for the music itself, I have written down a lot of ideas in my notepad and I feel like I am ready to take my music project to the next level. So far I am planning to drop 2 projects this year including one under my label Flow Fi.
Aside from that, I want to explore other horizons, I am thinking about starting my own parties here in Asia, but I won't go for it until I can come up with a solid and creative concept.
CLOT MIX #001 MAXIMUS MMC TRACKLIST:
TiDus - Blame Me
Boodie - Violence (Feat. Masego)
PUSHA T - M.P.A (Feat Kanye West & A$AP Rocky)
Toro Y Moi - Girl Like You
03 Greedo - Never Blend
FOGGIERAW - U Can't Be My Baby
Reese LaFlare - They Don't (Feat. PARTYNEXTDOOR)
Dwn2earth - I Didn't Know
Dice Soho - Wavy Freestyle
Thatshymn - Nothing Like Me (Prod. By Chris McClenney)
Vintage Lee - Lean Lean
SahBabii - King Of The Jungle
yaeji - drink I'm sippin on
yaeji - raingurl
BRIDGE - Brainwaves (Feat. Vory)
Hamza - 1994
King Faro - Guess Who
Creek Boyz - With My Team
Quin - Sticky Situation (Feat. Syd)
Kekra - 9 Milli 
Anders - Why
Rich The Kid - Why You Mad (Maximus MMC & talis. Remix)
YBS Skola - Shinning
Lil Skies - Red Roses (Feat. Landon Cube)
KILLY - Killamonjaro
Photos / Carol Tam
Words / Helena Yeung