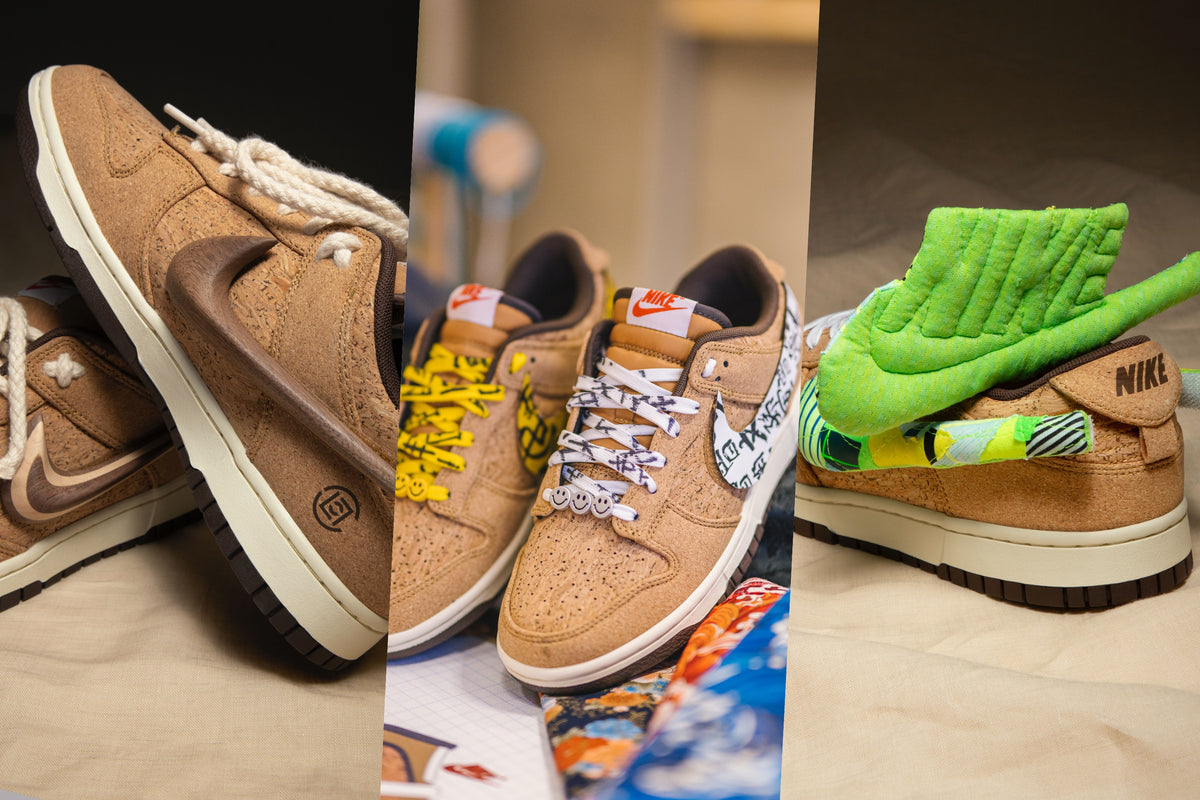 GET INSPIRED: ARTISTS AND STYLE STARS CREATE CUSTOM SWOOSHES FOR THE CLOT X NIKE CORK DUNK
CLOT's recent 20th-anniversary collaboration with Nike, dubbed the CLOT x NIKE CORK DUNK, has garnered significant attention and praise from sneaker enthusiasts across the globe thanks to its clean, distinctive cork board-inspired upper, and the array of laces and velcro Swooshes that can be easily switched out for a different look.
Taking a step further in its celebration of creativity and self-expression, CLOT has invited a group of talented artists and style stars to customize their own Swoosh designs for a truly unique and creative experience. From faux grass to beading embellishments, each artist put their own personal touch on the iconic sneaker, providing inspiration for sneaker enthusiasts looking to personalize their own kicks.
Your Style, Your Swoosh: With the CLOT x NIKE CORK DUNK collaboration and the endless possibilities for customization, let your creativity run wild and make a statement with your unique sneaker design. 
Scroll down and get inspired:
Cosmos (@cosmos_yuzhou) fully embraced pattern and texture play on both sides of each shoe.
Stylist Cornelius (@la_cornelius) used Chinese calligraphy set against contrasting yellow and white hues for his Swooshes. He also replaced the laces and made sure to add brush strokes to achieve a cohesive look.
CLOT Founder and Creative Director Edison Chen made a statement at Pharrell's debut Louis Vuitton show in Paris by wearing the CLOT x NIKE CORK DUNK with custom LV monogram leather Swooshes.
Great artists never limit themselves to one medium. Handmade footwear specialists Rifare Co (@rifare_co) pushed the boundaries by incorporating wooden Swooshes for an out-of-the-box look. They also used cotton string as laces to achieve a raw and rustic aesthetic.
Blackbab (@blackbab) opted for leopard-patterned Swooshes and bright yellow laces adorned with plastic beads to give off high summer vibes.
Why not try 3D Swooshes? Fabric artist Sonic Lam (@waikunglam) did just that, using stuffed Swooshes and pattern play to achieve standout results.
Illustrator and designer Ken Wong, better known as Lao Wang (@laowang1102), decided to incorporate faux grass into his design, and added his personal touch by outlining one of the Swooshes with his signature icon.
Bead artists Juu Juu (@juujuu.official) went all out with her beading embellishments, using beads in various colors and shapes to adorn the CLOT x NIKE CORK DUNK sneakers and one of the six accompanying Swooshes.