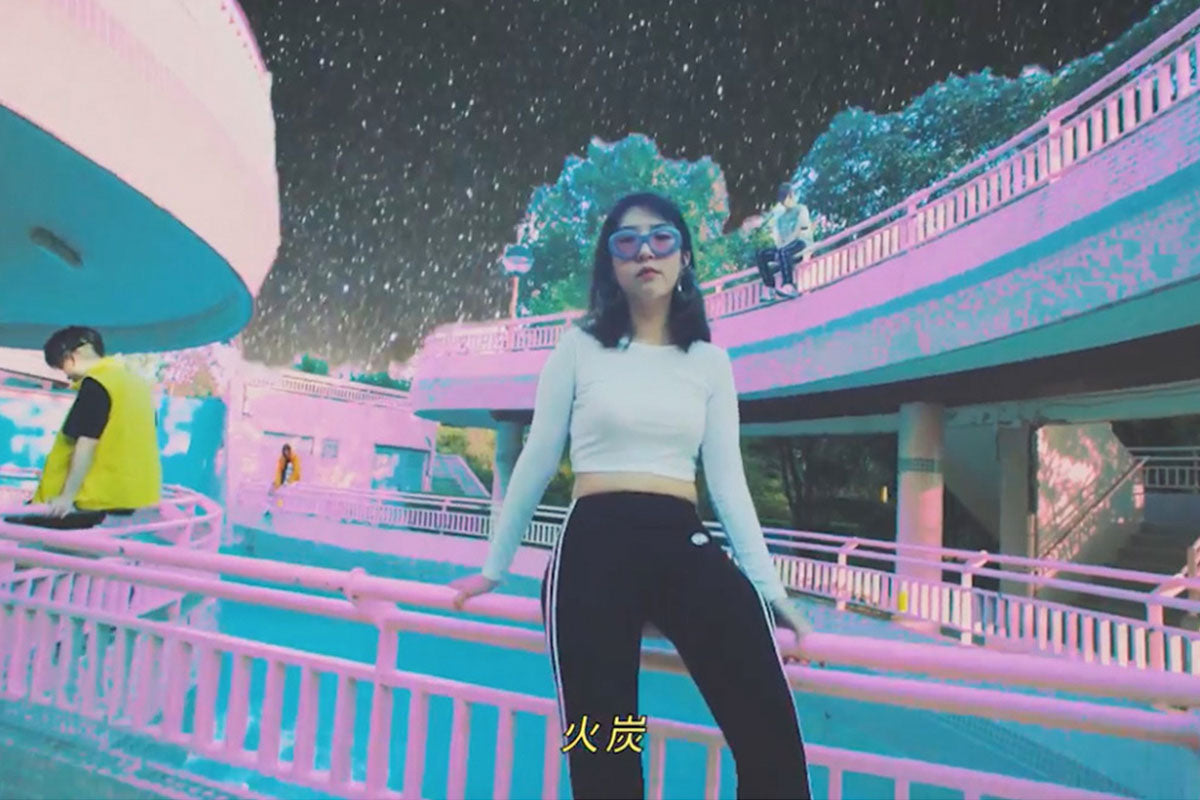 Getting Lost With Fotan Laiki
Fotan Laiki is hard to define, just the way she intends to be. Yes, she's from Fotan (and still lives there), but she's become somewhat of an unlikely icon for Hong Kong's youth and burgeoning underground scene. Sure, she's widely known as a rapper, but if you ask her, she only got into music accidentally. It might not even be what she wants to do forever, but for now, it's a pretty good way for her to express herself.
Best known for her eponymous breakout song "FOTAN LAIKI" (which has over a million views on Youtube), the track features another local rapper, YoungQueenz. The latter actually helped Laiki make headlines, when he asked her to perform with him at Clockenflap. A crazy deal when, in fact, she just asked if he could get her free tickets to the festival. But that's just who Laiki is… she's never too serious, and she just rolls with the punches.
Since then, she's become the epitome of Hong Kong's alternative youth. A voice for those who don't conform to the city's perceived "ideal." She's 22, didn't go to university and doesn't have a full time job. She spends her time jumping from part time work here and there, and is super critical of the government. Critics have praised "FOTAN LAIKI" for its boldness and how it has captured how young people feel in Hong Kong.
Upon meeting her, she's quite shy and soft spoken - definitely not the impression you'd expect after watching "FOTAN LAIKI." But after warming up a little, Laiki's funny, sweet and thoughtful. She spoke to us leading up to her highly-anticipated performance at Sonar. In what may be her last performance, it's definitely something you don't want to miss.  
How did you get into music?
Just randomly.. I used to listen to indie bands, but suddenly one day I got bored and sick of it so I jumped into hip-hop.
Now that you've found music as a way to express yourself, is this what you want to do?
No, I change my mind every second.
What's your usual music creation process?
I can only come up with good ideas when I'm in a good mood.Then I will get excited and make it happen. It's mostly inspired by my personal life.
There's a lot of collaboration between underground Hong Kong artists. Is there anyone you want to work with that you haven't yet?
Tai Po Lai Kei.
What are your 5 favourite songs right now?

How would you describe your style?
Wasted, rubbish, angry, chill.
What was it like growing up in Hong Kong?
Complicated feelings... I hate and love this place at the same time, I only feel alive after a normal school life.
You mentioned that you'd love to move somewhere one day, where would you go?
I don't know… because I always change my mind! I'll let God choose for me haha. 
How does it feel to be a voice of Hong Kong's youth?
I don't think I really represent the youth of Hong Kong. I just express how I feel in this city. After "FOTAN LAIKI" came out I'm glad I'm not the only one who's fucked up haha.
What's a funny or interesting story about running into a fan?
I remember once I was shopping at MUJI, and I went to the cashier to pay. Afterwards, the sales asked me if I'm Fotan Laiki. I felt so weird! Because I was at MUJI, haha I was just thinking "why didn't you give me a discount then?"
What's coming up for Fotan Laiki in 2018?
Getting lost everyday and do what I need to do.
What do you have planned for your Sonar performance?
Just follow my feelings… play the Switch haha, and get nervous!
Words / Helena Yeung
Follow Fotan Laiki