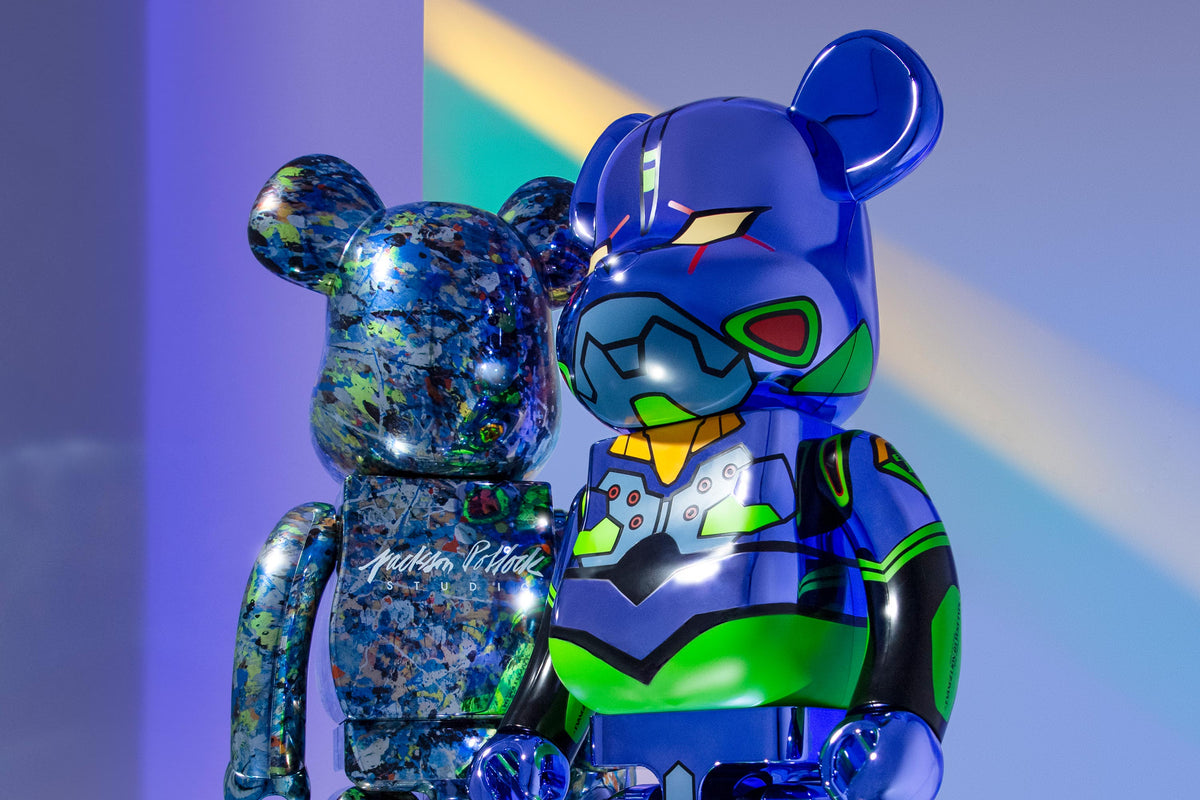 MEDICOM TOY: BRINGING MORE MUST-HAVES FROM THE BE@RBRICK WORLD WIDE TOUR 3!
In celebration of the 20th year since the birth of the illustrious BE@RBRICK, MEDICOM TOY announced the BE@RBRICK WORLD WIDE TOUR 3 event, or BWWT. For the event, CLOT Founder and Creative Director Edison Chen brought together some of today's most culturally relevant creative entities to create their very own BE@RBRICK for the exhibition.100 designers came together to showcase their own interpretation of the BE@RBRICK, and the release of a few sought after pieces from Acronym's Errolson Hugh, The Pokémon Company, and MEDICOM TOY. We now are happy to showcase the release of the Evangelion Unit 01 BE@RBRICK in CHROME in collaboration with Neon Genesis Evangelion, and Jackson Pollock Studio BE@RBRICK in CHROME in collaboration with Jackson Pollock.
Crafted as an embodiment of one of the most prominent and culturally influential anime to Western and Eastern audiences, the Evangelion Unit 01 BE@BRICK in "CHROME" puts together a timeless sci-fi anime and contemporary signage. Neon Genesis Evangelion was released in 1995, and as evidence of its current creative cultural relevancy and must-have status; the anime has had consistent nods, references, and collaborations with different creative entities from the East to the West. Including collaborations with Casio G-SHOCK, UNDERCOVER for its Fall/Winter 2021 collection, and even SAINT MICHAEL (SAINT Mxxxxxx) for a capsule release.


The Evangelion Unit 01 BE@RBRICK in CHROME Ver. uses the anime's main character 14-year-old Shinji's massive human-like sentient mecha as a reference to the design, with colors of obvious purple and green hues, and orange and black lining - finalised with a CHROME gloss finish. Save the date because this is a release you do not want to miss.


Forming an ever-lasting relationship, Jackson Pollock Studio come again in partnership with MEDICOM TOY to release another of the world-renowned drip-style paint splatter pieces released by the namesake artist within the early-to-mid 20th century period. The late painter was known for his Abstract Expressionist style which can be seen to have been influenced by the political climate of the WW2 era, and can be interpreted in many different ways. His art can be seen as relevant to today's day-and-age as his pieces represent a unification of political and human disparities.


The newest release of the Jackson Pollock Studio BE@RBRICK in Chrome Ver. uses the artist's recognisable technique of splatter painting, and is in a color scheme of blue, grey, black hues, infused with minute details of yellow/green splatters, finalised in a smooth CHROME sheen.
Both the Evangelion Unit 01 BE@RBRICK and the Jackson Pollock Studio BE@RBRICK are available in 100% + 400% and 1000% versions, dropping soon at select JUICE stores and online at JUICESTORE.COM on 5 January (12pm, HKT).
The upcoming BE@RBRICK releases will be available at:
JUICE Central
JUICE Causeway Bay
JUICE K11 MUSEA
JUICE Shanghai*
JUICE Chengdu IFS*
JUICE Guangzhou*
JUICE Taipei
JUICE Taichung
JUICE Los Angeles (coming soon)
*Please check each store location's respective Weibo accounts for more information.