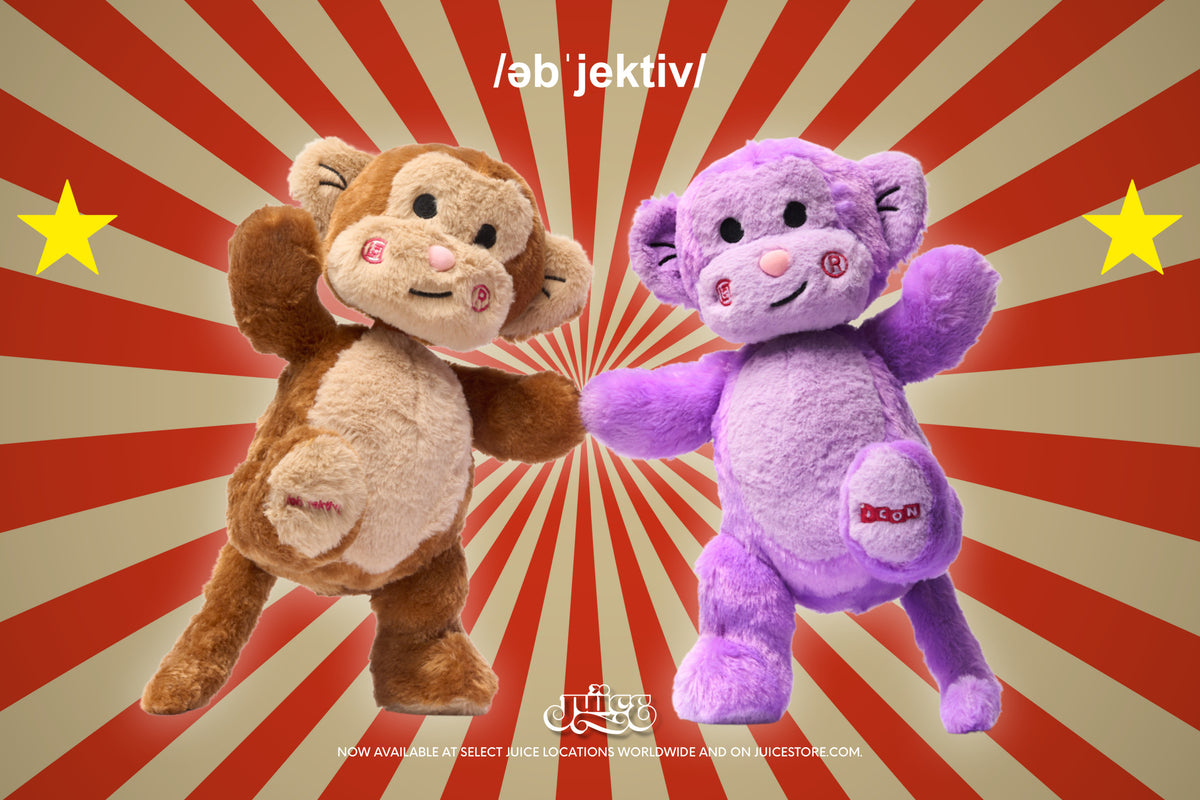 HERE COMES THE MONKEY KING: Edison Chen and OBJECTIVE COLLECTIBLES EDC MONKEY PLUSH DOLL DROPS AT JUICE
If you're a fan of high-quality collectibles, then the EDC Monkey Plush doll is a must-have addition to your collection. Co-founded by Edison Chen and Jakuan Melendez, OBJECTIVE COLLECTIBLES is a high-end collectible brand that has been making waves in the art and design arena. The EDC Monkey Plush doll, vividly endorsed by Edison Chen himself—we'll explain later—is the latest addition to the brand's collection.
Debuted at the DesignerCon event in November 2022, the EDC Monkey Plush doll quickly captured the hearts of fans and collectors with its playful, carnival-inspired design. After a brief appearance at a special pop-up in Hong Kong, the doll is now set to be sold worldwide in limited quantities through JUICE retail outlets.
The 14-inch plush doll is equipped with a metal-hinged skeleton and features flexible limbs and tail that allows all kinds of poses, topped with a removable head that reveals a plastic head resembling Edison Chen for added humor. The CLOT logo appears on the doll's cheeks, giving it a playful and whimsical look, while the sole of the doll's foot bears the logo of OBJECTIVE COLLECTIBLES.
Every character at OBJECTIVE COLLECTIBLES has its own story to tell, and this one is no different. Watch the video below to learn more about the story behind the monkey king. 
Each Edison Chen and OBJECTIVE COLLECTIBLES - EDC Monkey Plush doll is packaged in a carnival-themed box and is available at select JUICE retail locations and on JUICESTORE.COM. Don't miss your chance to add this unique and playful collectible item to your collection!
Price Information



EDC Monkey Plush doll – Brown
HKD 1,380 / RMB 1,180 / NTD 6,680

EDC Monkey Plush doll – Purple
HKD 1,380 / RMB 1,180 / NTD 6,680

Selling Doors

JUICE CAUSEWAY BAY / JUICE K11 MUSEA / JUICE CENTRAL / JUICE SHANGHAI (JULU ROAD) / JUICE CHENGDU / JUICE GUANGZHOU / JUICE TAIPEI / JUICE TAICHUNG

JUICE DOUYIN LIVESTREAM (JUN 1, 8PM CST)
JUICE ONLINE WECHAT MINI PROGRAM
JUICESTORE.TW
JUICESTORE.COM