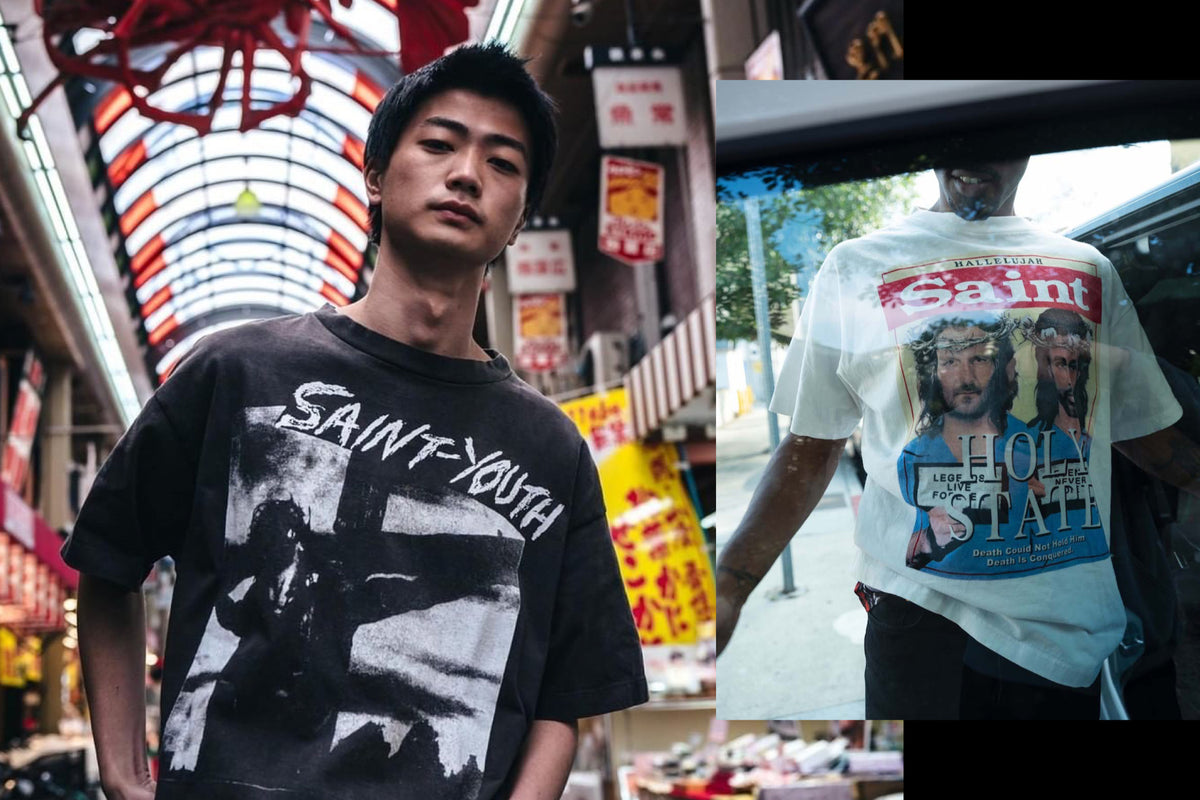 HOT DROP: Saint Michael continues its biblical exploration with Denim Tears and VLONE
Headed by READYMADE founder Yuta Hosokawa and prolific American artist Cali Thornhill DeWitt, Saint Michael released its latest drop of vintage-like stonewashed pieces for the Spring Summer 2022, highlighted by exciting pieces joint-created with streetwear favourites Denim Tears and VLONE.
After an earlier release of its premium leather-sleeved Saint Michael x Denim Tears Stadium Jacket, this newest drops offer a series of hard-to-pass cut and sew T-shirts for your summer rotation. Standout pieces include a short-sleeve tee with graphic of the crucifixion of Christ and "SAINT YOUTH" on the front, and the graphic of a distressed Mary on the back. Another comes with a front design inspired by the SAINT TEARS logo atop graphics of four Christian knights, while the back is printed with "Baby Michael" that we'll see in different items this season.
While the black, white and red colorway dominates this drop, the HOLY STATE short sleeve T-shirt depicts, in full color, two Jesus-like figures in diverse skin tones, holding up a sign that says "LEGENDS LIVE FOREVER" and "LEGENDS NEVER DIE" and, on the back, the mentioning of "all living beings" facing "Final Sentence" on "The Judgement" Day. 
Saint Michael x VLONE creations, on the other hand, includes a long-sleeve tee and shorts. The long sleeve T-shirt sees the logo of VLONE incorporated into a collage of letters that make up "LOVE & HATE", while the back is printed with the VLONE logo and a message "FORGIVE ME FATHER FOR I HAVE SINNED" associated with Christianity. The shorts, meanwhile, features a collage of the VLONE logo and the crucifixion of Christ on the left leg, and brand logo print on the other. 
Like every Saint Michael creation, all pieces are carefully made in Japan, and treated with sulfide dye for a stonewash finish that aims for a real vintage look. Explore the Saint Michael Spring Summer 2022 range at JUICE Causeway Bay, JUICE Central and on JUICESTORE.COM today.