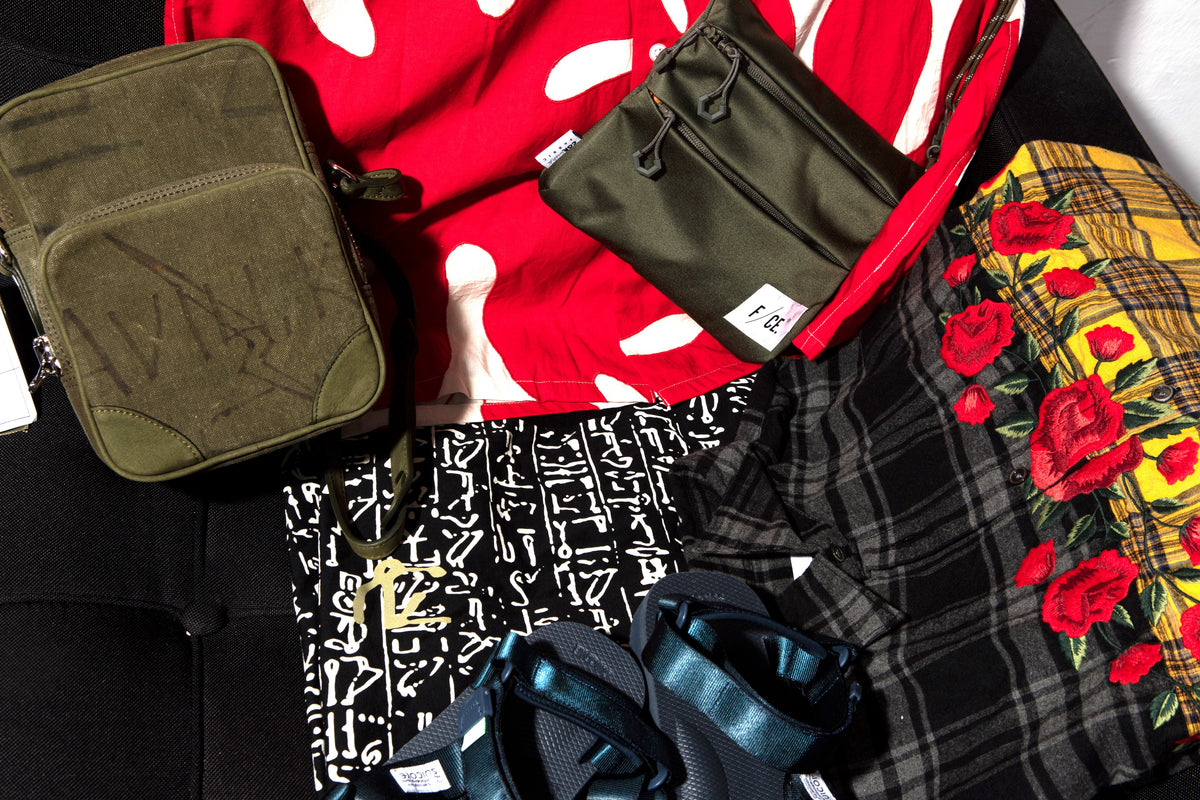 See Our Top 8 JUICE Summer Recommendations!
With a plethora of options to choose from during sale season, we've rounded up our favorite releases to step into the summer season! From Awake New York to Readymade, to BODE or CLOT to CLOTTEE - scroll down for our top summer-approved picks to add to your wardrobe!
1. Awake New York - Rose Shirt


This casual button-down shirt with is seasonless - Awake New York's Spring/Summer 2020 update to the classic presents itself in spliced colourways. Combining high-end techniques with streetwear sensibilities, an embroidered floral motif adds something special to the tailored statement shirt.


Japanese imprint Readymade upcycled military textiles to create a modern-day version of the military field pack - just what you need to brave the city or the outdoors. This piece was constructed from repurposed U.S Military duffle bags, bringing forth a fusion of everyday functionality, military-level durability and a piece of history.
3. CLOT - Hieroglyphic T-shirt


Walk like an Egyptian with CLOT's Hieroglyphic T-shirt! The design is part of CLOT's latest Spring/Summer 2020 Egyptian-inspired collection which introduces a medley of tailored and casual designs in high-quality constructions. Let the hieroglyphs speak by styling this statement piece with denim bottoms or shorts - dress it up with layers and accessories. 
You can't go wrong with a pair of Suicoke sandals - the Japanese footwear brand has made waves since its inception in 2006 for its high-performance designs. The custom Vibram soles practically hug your feet, providing exceptional comfort and support. Check out the range of styles that are available in a variety of colorways that are a perfect mainstay even after the summer season!
5. BODE - Cut-Out Applique Shirt


This Cut-Out Applique Shirt - the perfect gateway piece for those who want to own a piece from the vintage artisans of BODE. The statement shirt caters towards styles that are more casual, bold and the avant-garde.
6. F/CE Sacoche

The popular Japanese brand F/CE Tools is back with their most popular styles at JUICE! The brand is known for bridging style with functionality, delivering a range of contemporary styles fit for the outdoors or everyday wear. Choose from the variety of Sacoche models or Satin Drawstring bags. 


7. Emotionally Unavailable - Liberty Cap

Contemporary lifestyle brand Emotionally Unavailable was founded in 2013 by Edison Chen and Kybum Lee. Appealing to hopeless romantics, the tailored designs take the form of emotions rooted in love. To incorporate the latest designs in your daily OOTD, we recommend the Liberty Cap that comes in multicolored tweed to elevate any casual to tailored look. 
Your order is up! Celebrating the thousand-year old tradition of dim sum and yum cha culture, CLOTTEE Spring 2020 pays homage to some of the iconic dim sum dishes. A standout piece from this collection is the Dim Sum Shirt that features all of our favorite dishes on a casual button-down shirt - pair it with any of the new accessories and you're good to go!