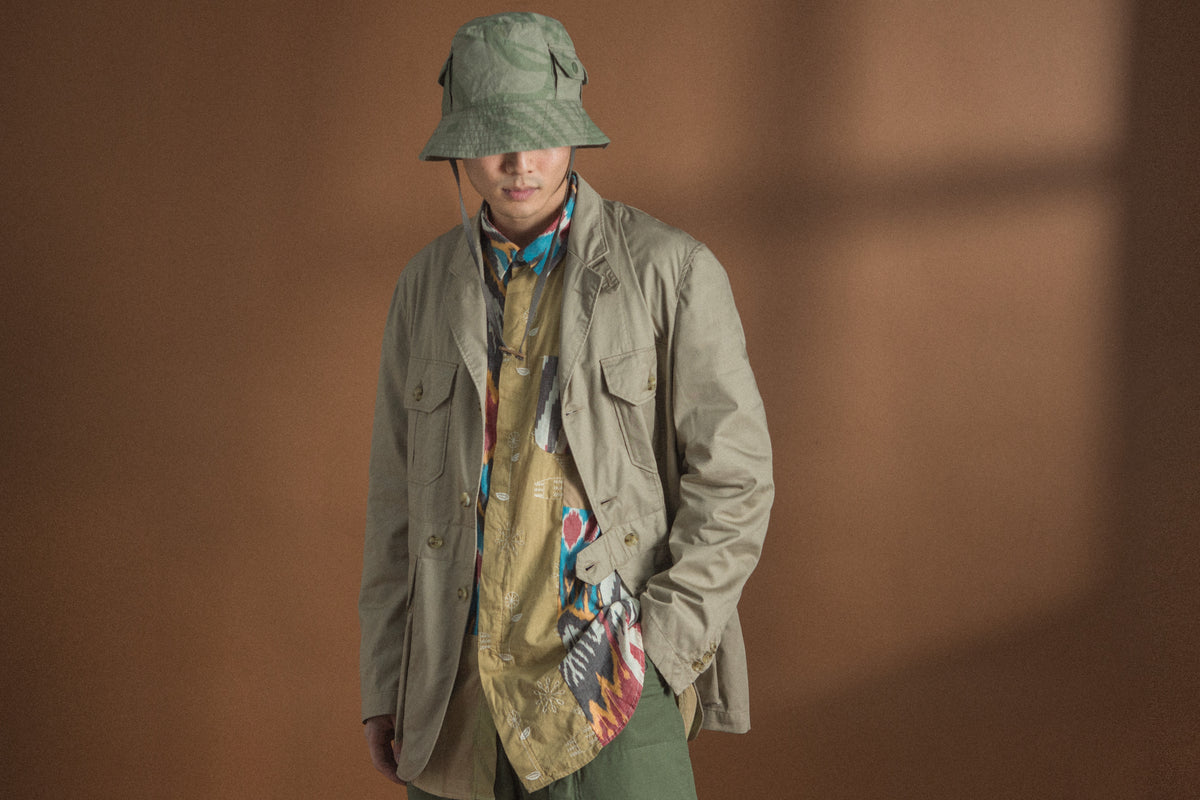 ENGINEERED GARMENTS SPRING SUMMER 2022 IN THE EYES OF JUICE
Titled "The First and the Future", Engineered Garments presents an African-inspired SS22 collection that sheds light on the need to preserve biodiversity in the continent. Scroll ahead to see this new drop interpreted by JUICE.

Shop the look: Engineered Garments Explorer Hat / Printed Cross Crew Neck Pocket T-Shirt / Fatigue Shorts
Taking inspiration from imageries of Africa and African-inspired works by fashion brands—including Banana Republic, Abercrombie & Fitch, Ralph Lauren, Willis & Geiger, Ruff Hew, and British Khaki—back in the '80s, Japanese designer Daiki Suzuki presents his signature utilitarian styles in safari-themed color palettes and silhouettes, all in an effort to remind future generations the need to restore biodiversity in Africa and preserve our global ecosystem.

Shop the look: Engineered Garments Explorer Hat / Combo Short Collar Shirt / Upland Vest / Fatigue Shorts
The resulting collection is a line-up of easy silhouettes with clean lines and multiple pockets, complemented by tribal-inspired prints and natural hues that serve as an ode to African wildlife. Key favorites include the Combo Short Collar Shirt in a beautiful mix of multicolor ikat and beige, accented by bird and floral embroideries that all come together to paint a picture of the breathtaking African landscape. There's also the Upland Vest in indigo blue made using 8oz industrial denim, featuring a versatile design for endless layering.

Shop the look: Engineered Garments Explorer Hat / Campshirt / Printed Cross Crew Neck Pocket T-Shirt / Fatigue Shorts