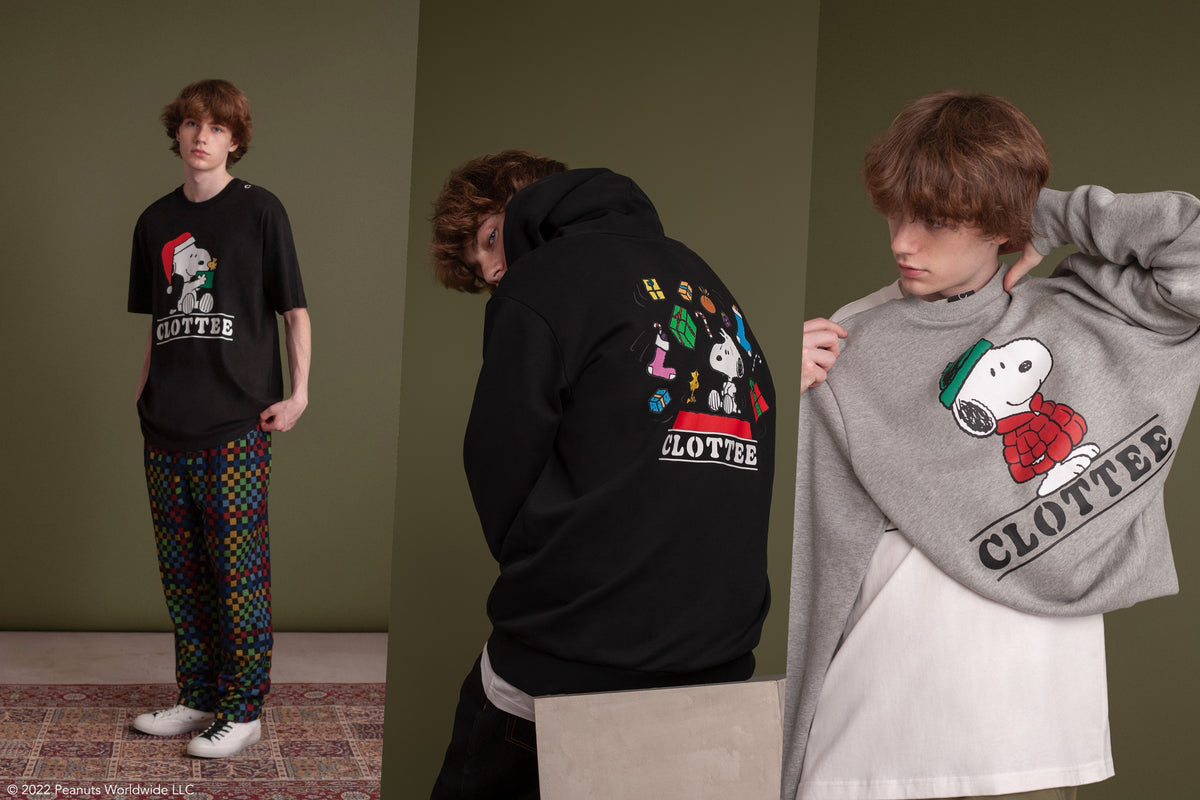 A SNOOPY CELEBRATION: CLOTTEE AND PEANUTS LAUNCH CHRISTMAS CAPSULE
CLOTTEE and PEANUTS have partnered to launch a capsule collection, adorned with playful graphics featuring the world's most lovable beagle: Snoopy.
Launching just in time for the holiday season, the CLOTTEE x PEANUTS Christmas Capsule comprises streetwear basics including tees, sweatshirts, hoodies, and a beanie, adorned with graphics of Snoopy dressed in festive attires, adding a joyful touch to your holiday wardrobe. In addition to apparel, the capsule also includes a delightful array of lifestyle offerings from Christmas cards to stickers, ornaments and even face masks, making sure you're all set as you embrace the most wonderful time of the year.
The CLOTTEE x PEANUTS Christmas Capsule is set for gradual release at select JUICE selling doors worldwide from December 16, 2022. Follow @CLOTTEE and @JUICESTORE social media channels for further updates.
Price Information


CLOTTEE x PEANUTS DIALOGUE SS TEE

- HKD 480 / RMB 420 / NTD 2,080


CLOTTEE x PEANUTS SUNGLASSES SS TEE

- HKD 720 / RMB 420 / NTD 2,080


CLOTTEE x PEANUTS CHRISTMAS DAY SS TEE

- HKD 480 / RMB / 420 / NTD 2,080


CLOTTEE x PEANUTS FAMILY SS TEE

- HKD 480 / RMB 420 / NTD 2,080


CLOTTEE x PEANUTS BOXING DAY HOODIE

- HKD 680 / RMB 620 / NTD 3,180


CLOTTEE x PEANUTS FAMILY HOODIE

- HKD 720 / RMB 620 / NTD 3,180


CLOTTEE x PEANUTS SUNGLASSES SWEATSHIRT

- HKD 680 / RMB 580 / NTD 2,980


CLOTTEE x PEANUTS CHRISTMAS SWEATSHIRT

- HKD 680 / RMB 580 / NTD 2,980


CLOTTEE x PEANUTS DIALOGUE SWEATSHIRT

- HKD 680 / RMB 580 / NTD 2,980


CLOTTEE x PEANUTS BEANIE

- HKD 320 / RMB 280 / NTD 1,480

Selling Doors

JUICE K11 MUSEA / JUICE SHANGHAI (JULU ROAD) / JUICE CHENGDU IFS / JUICE GUANGZHOU /
JUICE MARKET INNERCO POP-UP (CHENGDU) / JUICESTORE.TW / JUICESTORE.COM / CLOT TMALL / JUICE ONLINE WECHAT MINI PROGRAM
Price Information


CLOTTEE x PEANUTS STICKER SET

- HKD 50 / RMB 50/ NTD 280


CLOTTEE x PEANUTS CHRISTMAS ORNAMENT

- HKD 240 / NTD 1,180


CLOTTEE x PEANUTS CHRISTMAS CARD SET

- HKD 100 / RMB 100 / HKD 480


CLOTTEE x PEANUTS KN95 FACE MASK

- HKD 180

Selling Doors



CLOTTEE x PEANUTS CHRISTMAS CARD SET


JUICE MARKET INNERCO POP-UP (CHENGDU) / JUICE K11 MUSEA / JUICE SHANGHAI (JULU ROAD) /JUICE CHENGDU IFS / JUICE GUANGZHOU / JUICESTORE.COM / JUICESTORE.TW / CLOT TMALL / JUICE ONLINE WECHAT MINI PROGRAM



CLOTTEE x PEANUTS STICKER SET


JUICE MARKET INNERCO POP-UP (CHENGDU) / JUICE K11 MUSEA / JUICE SHANGHAI (JULU ROAD) /JUICE CHENGDU IFS / JUICE GUANGZHOU / JUICESTORE.COM / JUICESTORE.TW / CLOT TMALL / JUICE ONLINE WECHAT MINI PROGRAM



CLOTTEE x PEANUTS CHRISTMAS ORNAMENT


JUICE K11 MUSEA / JUICESTORE.COM / JUICESTORE.TW



CLOTTEE x PEANUTS KN95 FACE MASK


JUICE K11 MUSEA / JUICESTORE.COM