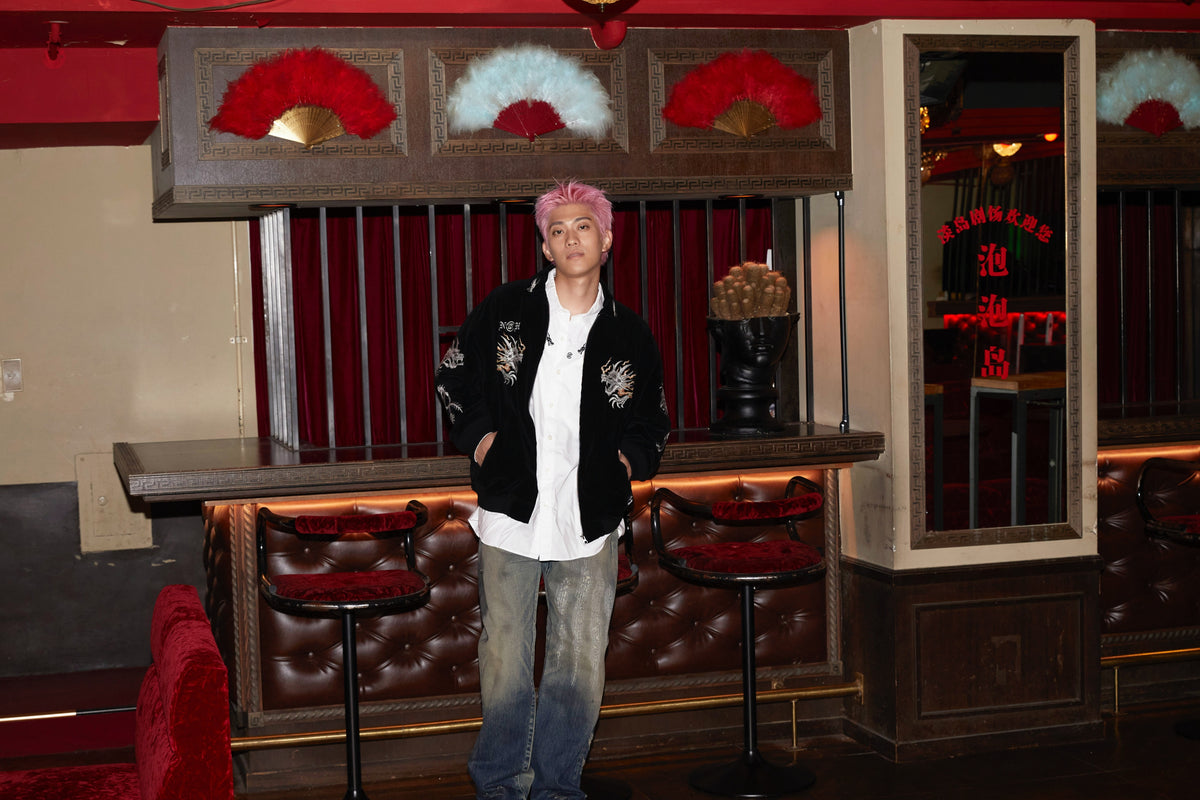 CLOT AND NEIGHBORHOOD UNVEIL AN ELECTRIFYING COLLABORATION
CLOT is thrilled to announce an exhilarating collaboration with Neighborhood, the influential Japanese streetwear label. This highly anticipated collection showcases the seamless integration of CLOT's iconic designs inspired by Chinese heritage and Neighborhood's punk rock aesthetic, resulting in a truly unique and captivating offering.
A prominent feature of this collaboration is the striking transformation of the dragon motif, a legendary creature frequently embraced by both brands. This iconic symbol has undergone a bold metamorphosis, emerging as skeletal figures that are masterfully integrated into a diverse range of garments and accessories, including tees, shirts, jackets, socks, and more. The juxtaposition of the intricate, classic pattern with the rebellious skeletal dragons creates a visually stunning presentation that is sure to captivate loyal fans and streetwear enthusiasts alike.
CLOT's signature pieces have been meticulously crafted to showcase the fusion of cultural influences. The Chinese Shirt, with its classic silhouette, has been meticulously crafted using black silk subtly patterned with the iconic Silk Royale, now incorporated with the skeletal design and NBHD in gothic-style lettering for an intriguing contrast. The Baseball Shirt adopts a henley silhouette and features distinctive embroidered details on the back, including the CLOT name and the number 3204, paying homage to the first Neighborhood store located in Tokyo's Harajuku district.
Also included in the collection are denim jeans in two colorways with distressed details that emulate the markings of dragon claws, adding a unique touch to the overall aesthetic. There is also a beautiful ceramic incense chamber with a sophisticated design inspired by decorative incense burners in ancient China. Light up with the short incense sticks made in a three-way collaboration with Kuumba, featuring the invigorating Pacific Virgin flavor.
The CLOT x Neighborhood collection is set for official release at select JUICE locations in Hong Kong, Mainland China, and Taiwan regions on September 9, 2023, as well as JUICE Los Angeles on September 15, 2023.
Price Information
Prices for the CLOT x Neighborhood collection range from HKD 159 to HKD 5,799 / USD 16 to USD 745 /
RMB 159 to RMB 5,799 / NTD 580 to NTD 23,880

Selling Doors
JUICE CAUSEWAY BAY / JUICE SHANGHAI (JULU ROAD) / JUICE CHENGDU IFS / JUICE GUANGZHOU / JUICE TAIPEI / JUICE TAICHUNG / JUICE LOS ANGELES / JUICESTORE.COM / JUICESTORE.TW / JUICE WECHAT MINI PROGRAM