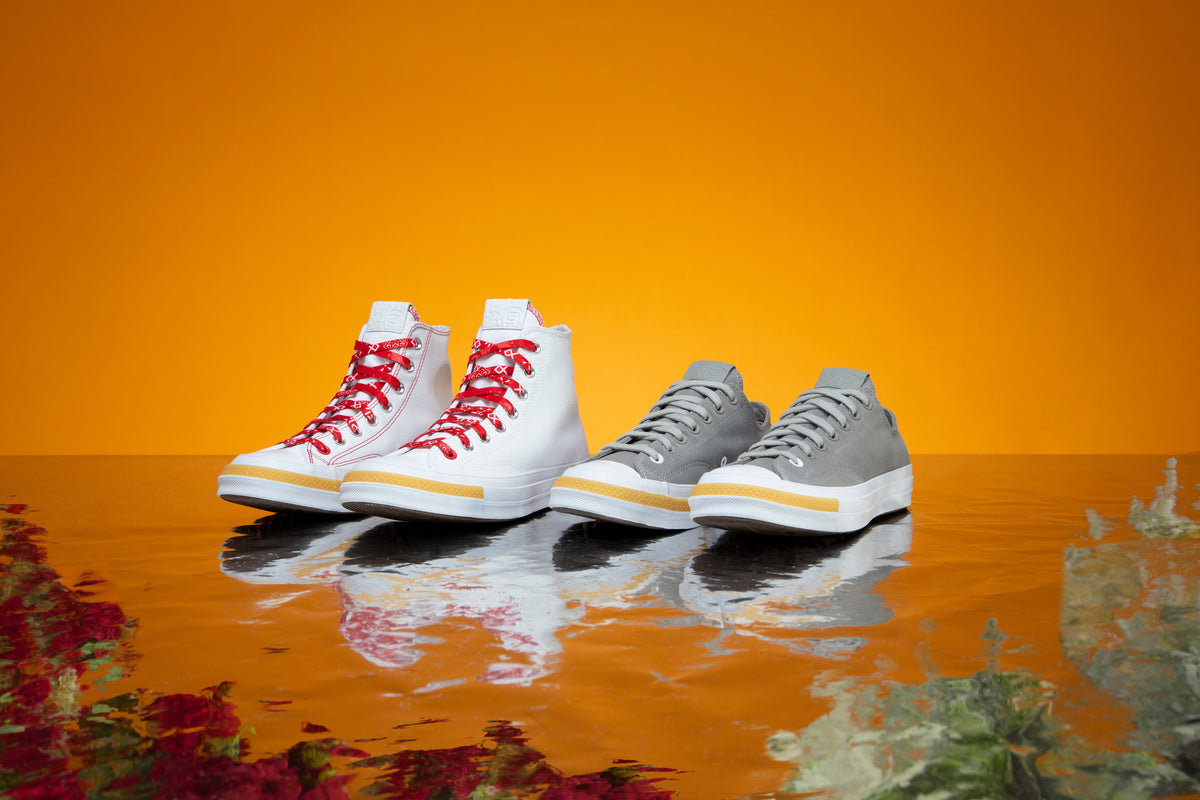 CLOT AND CONVERSE RELEASE CHUCK 70 HI "WHITE" AND CHUCK 70 OX "PALOMA" PACK
CLOT has yet again tapped Converse for two pairs of the brand's now timeless Chuck 70 sneakers, inspired by the first of many collaborations between the two brands - the Chuck Taylor All Star "Handshake" Low. The 2011 sneaker was notably worn by the likes of former first lady of the United States, Michelle Obama. The release features a revamped pair of Converse's iconic Chuck 70 in both Ox and Hi styles - in colorways of "Paloma" and "White" respectively. Design details of the Chuck 70 Hi "White" feature CLOT's signature red detailing - symbolising the brand's East-meets-West vision through its contrast of white and red materials.
Details include its stylish red threading through one-half of each shoe's canvas upper and its subtle red branding on the heel of the shoe. The sneaker most notably features CLOT's influential Silk Royale imprint - ladened on the red insole, embossed on the tongue, and even inscribed onto the shoe's laces.
The Chuck 70 Ox "Paloma" features a grey suede upper which gives a smooth contrast to the toe tip's gum-colored thin rubber stripe. The sneaker utilises a grey version of the Silk Royale print - which is embossed on the tongue fabric, and imbued on the shoe's insole and lacing. The sneaker is then finalised with the CLOT's subtle branding on the heel, and additionally draws some of its inspiration and slight design similarities from the 2011 Chuck Taylor All Star Low "Handshake".
The shoe boxes were designed in an all-red coloring with both brands' logos on all sides. A notable addition to the box was the use of the "Hello My Name Is" print - known as an identification label used most prominently in American stores and supermarkets. The label was adopted by many different art subcultures and used as an identification for their own art medium. The vision and inspiration behind the box, and the shoes itself, was for people to be able to customise to their own liking and express themselves, emphasising creativity and making all aspects of the shoe's design a representation of yourself - resonating with art's individuality and uniqueness.
To celebrate the collaboration and the inspiration, CLOT will be holding a private shoe customisation event at JUICE Causeway Bay, JUICE Chengdu IFS and JUICE SHANGHAI on JUNE 18. The release will be available starting JUNE 18 at select JUICE stores worldwide.
LAUNCH INFORMATION:
RELEASE DATE: JUNE 18, 2021

JUICE CAUSEWAY BAY / JUICE K11 MUSEA / JUICE SHANGHAI / JUICE CHENGDU IFS JUICE TAIPEI / JUICE TAICHUNG / JUICE THE BOX TAIPEI /JUICE LOS ANGELES WWW.JUICESTORE.COM /
WWW.JUICESTOREUSA.COM / WWW.JUICESTORE.TW

PRICING:
CHUCK 70 HI "WHITE": $899 HKD / ¥799 RMB / $100 USD / $3,280 TWD CHUCK 70 OX "PALOMA": $859 HKD / ¥749 RMB / $95 USD / $3,180 TWD