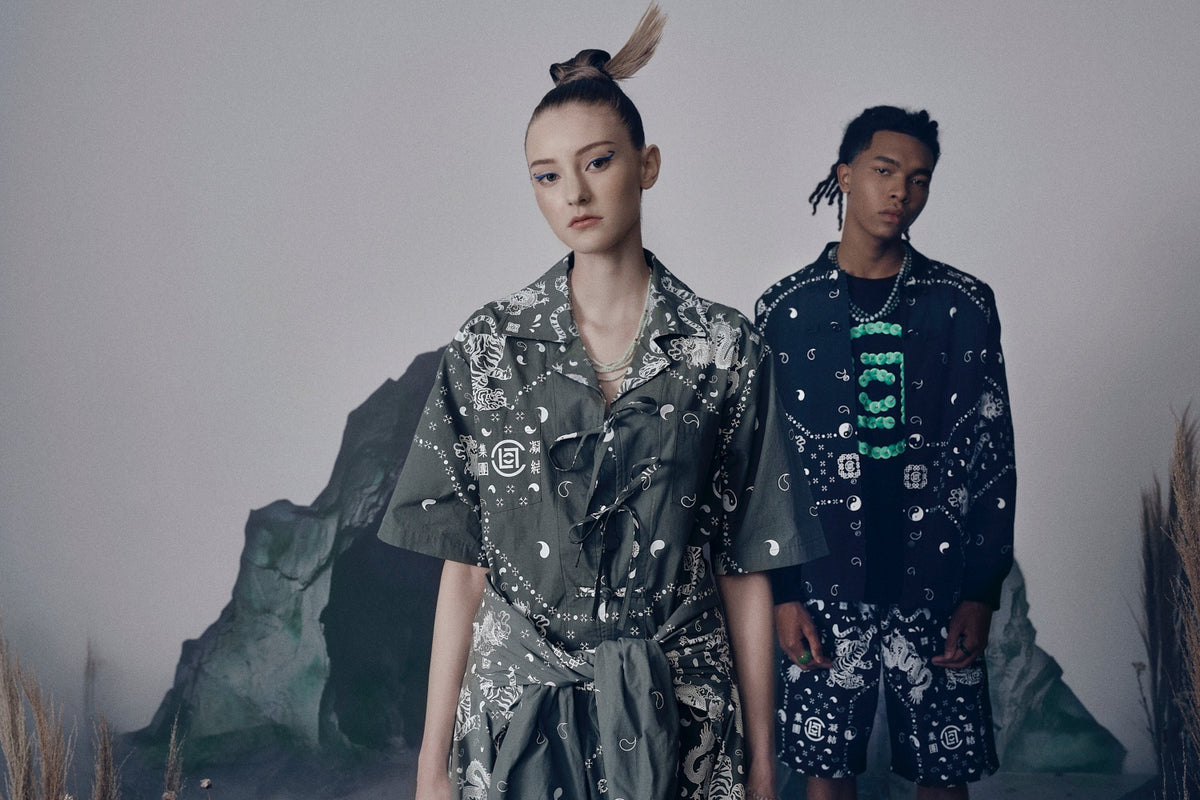 CLOT PRESENTS SPRING SUMMER 2022 "JADED" COLLECTION
CLOT reveals its Spring Summer 2022 collection inspired by jade—a highly-prized gemstone with a history in China spanning five millennia.
From the famous Heshibi to the imperial seal and the jade disc heirloom pendants believed to bear blessings and protection from above, jade has been an integral part of Chinese culture for five thousand years. Such a pinnacle representation of Chinese civilization and our tradition of cultural inheritance aligns perfectly with CLOT's founding mission to take the rich Chinese heritage to the modern-day through thoughtfully-designed apparel tailored for new generations in Asia and beyond.
Titled JADED, CLOT's new seasonal collection includes outerwear, casual top and bottom pieces, accessories, and even homeware items, all covered in symbolic designs that bear meanings associated with the treasured gem. The jade disc, for example, takes the form of prints on t-shirts, and chained adornments on jackets, pants, bucket hats, and more. With a design derived from ancient ceremonial discs, jade disc pendants today are gifted as a blessing for good health and fortune.
Jade carvings of dragons and phoenixes were once commonly used animal totems. For CLOT's Spring Summer 2022 collection, the five claw-dragon—once a symbol reserved for emperor's exclusive use—can be found printed onto T-shirts and sweaters atop the CLOT logo, whereas the phoenix—a symbol for empresses—are beautifully embroidered onto the back of field jackets.
Other than prints and graphics, tie-dye pieces—presented in jade's extensive color palette from green and lilac to white, red, brown, orange, and black—also notably run through the collection, along with a variety of lenticular knitwear pieces and a cape-like windbreak in reflective material that beautifully translate the translucent and light-distorting quality of jade that makes the stone so captivating to many throughout history.
To visually present the deeply entwined mythological and historical association with jade in China, CLOT presents a series of campaign visuals for the Spring Summer 2022 JADED collection that offers an out-of-the-world experience inspired by this heavenly gem.
CLOT Spring Summer 2022 JADED collection is scheduled to arrive at JUICE locations worldwide and online at JUICESTORE.COM from 24 February 2022. Follow our social media platforms for instant updates.
SELLING DOORS

JUICE CAUSEWAY BAY / JUICE K11 MUSEA / JUICE CENTRAL / JUICE SHANGHAI (JULU ROAD) / JUICE CHENGDU IFS  / JUICE GUANGZHOU /  JUICE LOS ANGELES / JUICE TAIPEI / JUICE TAICHUNG

www.juicestore.com  |  www.juicestoreusa.com  |  www.juicestore.tw  |  JUICE ONLINE WeChat Mini Program
RELATED READS