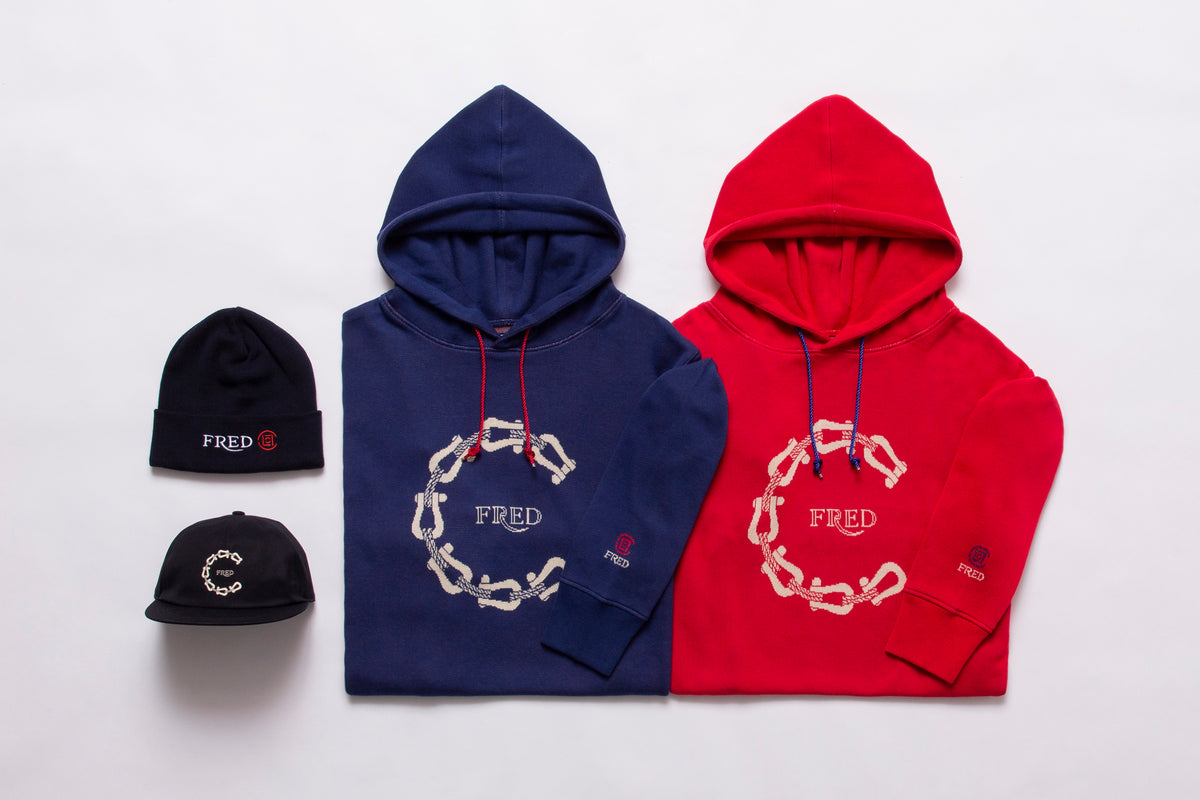 Maison FRED Announces its First-Ever Apparel Collection With CLOT!
CLOT links up with Maison FRED on the latter's first-ever apparel collection. Taking inspiration from the iconic Force 10, the collection fuses CLOT's heritage with FRED's designs, forming a unique mix of clothing and jewelry and reimagining the lines between apparel and accessories.
Valérie Samuel, artistic director and vice-president of FRED, continues tradition by fusing jewellery and streetwear:
"I gave carte blanche to Edison Chen and the CLOT label to get inspiration from the universe of Force 10 and create this clothing line. The style and sporting values of our iconic bracelet find a natural place in the streetwear fashion of CLOT and in Edison Chen's urban and arty vision. In my opinion, his sense of daring chimes perfectly with the personality of my grandfather Fred Samuel and the spirit with which he imbues our Maison."
Started in 2003 in Hong Kong under the leadership of its two founders, Edison Chen and Kevin Poon, CLOT is a fashion and lifestyle brand combining streetwear and urban sport influences. With a global presence, CLOT draws on its Asian roots to forge bonds with the West through its ready-to-wear collections and collaborations with big names in street culture.
"We always aim to bridge the East and the West through reimagining different cultural icons through our own lens, and this collaboration is no different. With what CLOT and FRED stand for, the collaboration itself is a mark of bridging the East and the West."
The designer further anchors Force 10 in the world of sport through the first fashion capsule collection in FRED's history. Inspired by a set of fine jewellery and multiplied like a chain, the signature buckle appears at the neckline and on the front of t-shirts, sweatshirts and hoodies in bold colours. A cap and a beanie complete the line.
"Luxury jewellery has always played a big part in street fashion and, of course, in fashion at large. We looked into FRED's archives and took cues from advertisements and visuals from the '50s and '60s, bringing this to the modern day with a CLOT twist. A lot of the collection also pays homage to '90s hip-hop such as the three-chain crewneck. Special design elements such as the lace-up detailing on the coach jacket are directly inspired by FRED jewellery pieces and, of course, the main colours of this collection are navy blue (representing FRED) and red (representing CLOT). We hoped to remix some of our brand identity with FRED's signature designs to create a collection that appeals to different demographics and both brands' fan bases,"
Starting on October 16th, the collaboration will be unveiled in full in a digital fashion show during Rakuten Fashion Week in Tokyo and will be available for purchase at JUICE Causeway Bay, K11 MUSEA (Hong Kong) and JUICE Shanghai. 
 #FREDxCLOT