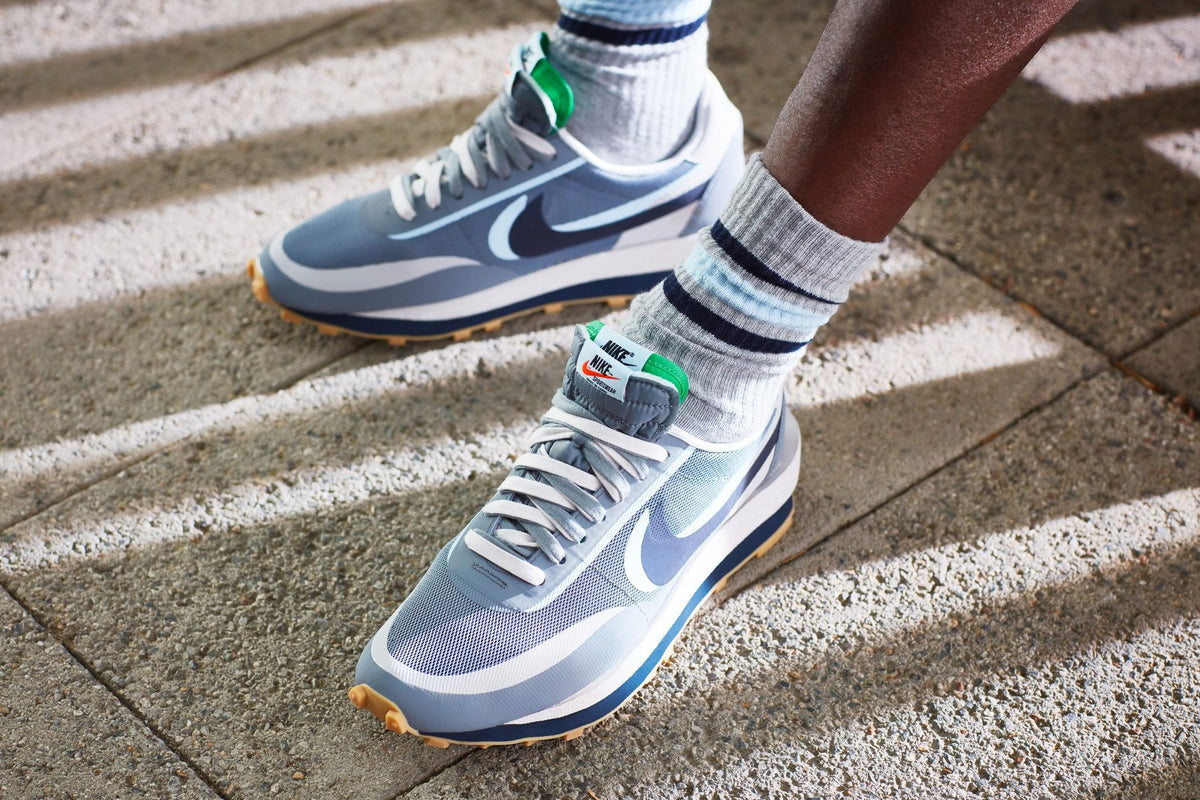 Raffle Release Mechanism: Learn how to cop the CLOT x sacai x Nike LDWaffle "Grey"
The highly-anticipated CLOT x sacai x Nike LDWaffle "Grey" is set to release on October 7 worldwide! 
The brand new colorway serves as an ode to one of CLOT's classics, the CLOT x Nike Air Max 1 SP "Kiss of Death" Hyperfuse edition, notably released in 2013.CLOT co-founder and Creative Director pays tribute to the legendary sneaker by remixing original elements and highlighting them on the exclusive LDWaffle silhouette. The CLOT x sacai x Nike LDWaffle "Grey" features a combination of obsidian grey, green and navy hues, complemented with a speckled midsole. The breathable mesh upper is supported by a seamless toecap - by recalling elements from the Hyperfuse edition, the overall construction of the shoe is streamlined for a contemporary aesthetic, merging its storied legacy with the present to create new and previously unimagined combinations with CLOT's partnership with sacai.
Scroll down below to find out how to enter the raffle in the closest region near you - good luck!
Global Raffle Release Mechanism:

ONLINE RAFFLE:
International and online raffle will be available via JUICE App (worldwide), JUICESTOREUSA.com and Maxfield Gallery. Stay tuned to JUICESTORE.com and our social media channels - more details releasing very soon!

IN-STORE RAFFLE:

CLOTsacaiTHEHOME (HK Residents):
Double your chances by entering the in-store raffle in CLOTsacaiTHEHOME pop-up from September 30 to October 5. Selected lucky winners will be selected to purchase the shoe and take home the CLOT x sacai tote bag along with a special gift - exclusive only to CLOTsacaiTHEHOME locations along with a special gift!
CLOTsacaiTHEHOME (JUICE Shanghai)

Residents in Shanghai can enter the raffle via. registration link on JUICE Shanghai's Weibo account from 12 PM (CST) to 3 PM (CST). 

JUICE Los Angeles

Fans in Los Angeles can head to JUICE Los Angeles to enter the in-store raffle from October 1 to October 3. 
JUICE Chengdu
Residents in Chengdu can head to JUICE Chengdu at IFS Mall to join the in-store raffle starting from 12 PM to 10 PM (CST) on October 7. 

JUICE Guangzhou
Residents in Guangzhou can head to JUICE Guangzhou to join the in-store raffle starting from 11 AM to 10 PM (CST) on October 7.