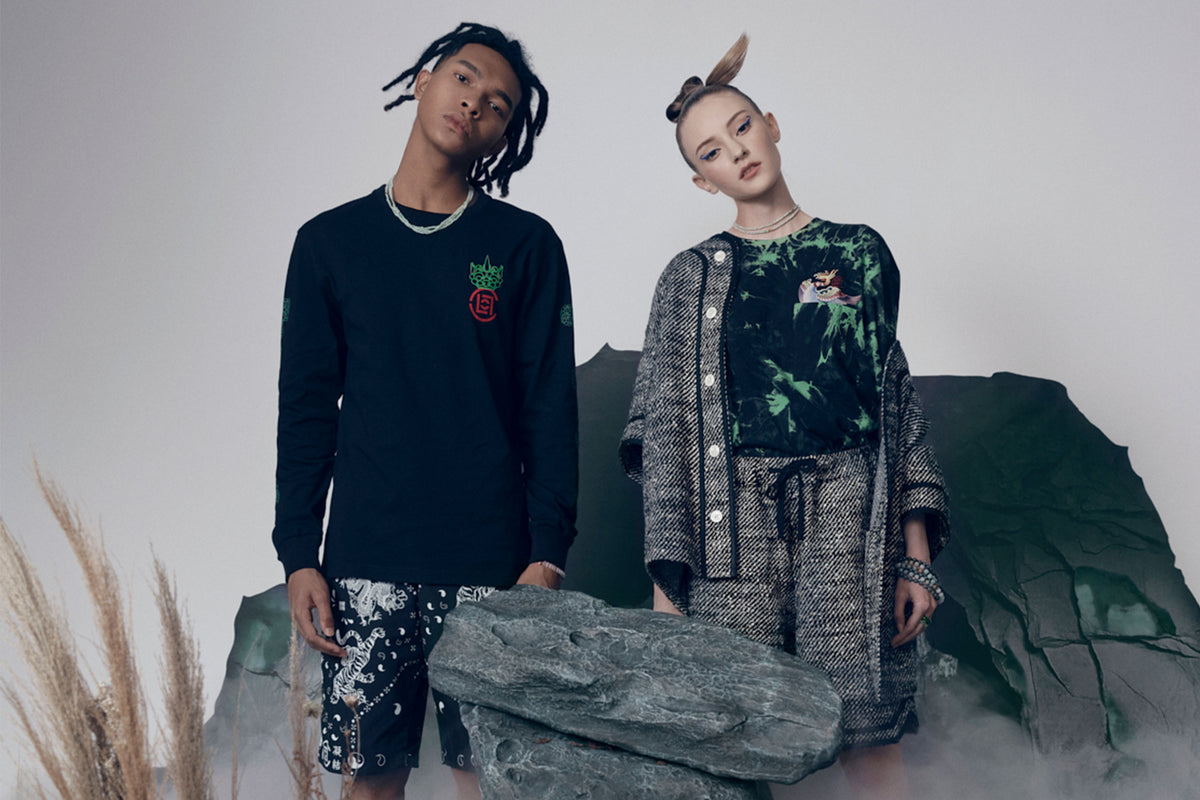 The True Meaning of "JADED" Explored in CLOT's SS22 Collection - Drop 2
One of the most prominent and symbolic gems of China, the jade has been integral to the development of Chinese culture. The gemstone to this day has maintained its historical relevance and status, and with that, has grown in artistic value.
Paying tribute to the pinnacle of millennia-old tradition and values, CLOT has sought to display this strong heritage in an international setting with its newest Spring Summer 2021 collection "JADED". Seeking to bridge the East-and-West, the term "JADED" can take reference from both cultures, one of tradition and one of youth.
CLOT Spring Summer 2022 "JADED" Drop 2 - Lion Rock LS Tee (Left) and Phoenix Tie Dye Tee (Right)
CLOT weighs in with its historical relevance and references of the Chinese jade, and adding in the true definition of what it means to be "JADED". This upcoming release features a range of different silhouettes, from streetwear classics like t-shirts, hoodies, and updated crewnecks —to traditional garments and accessories remixed through a contemporary lens.
References to "JADED" include the use of psychedelic inspiration with kaleidoscopic pattern prints, hypnotic graphics, and wavey-like textile fabrics —which all hint at the true nature of the term. These artistic styles are reimagined through CLOT's use of old-age traditional Chinese inspiration, including mythic beasts like a dragon and phoenix, heritage silhouettes like the Chinese shirt, and even embellishments of old Chinese calligraphic script.
CLOT Spring Summer 2022 "JADED" Drop 2 - Coach Jacket & Phoenix Tie Dye Tee (Left) 
One of the more unique inclusions of the collection, which truly represent the blend of cultures, are the minimalist design details of the historically-significant jade gemstone disc pendant intertwined with a symbolic red cord.
Have a look below for a full look at Drop 2 of CLOT's Spring Summer 2022 "JADED" collection. For more information on the special lenticular pieces unique to this collection click here, and for the previous Drop 1 details here. 
CLOT Spring Summer 2022 "JADED" Drop 2 is available at select JUICE locations worldwide and online at JUICESTORE.com on March 11, 2022 (12 PM, HKT)
SELLING DOORS

JUICE CAUSEWAY BAY / JUICE K11 MUSEA / JUICE CENTRAL / JUICE SHANGHAI (JULU ROAD) / JUICE CHENGDU IFS  / JUICE GUANGZHOU /  JUICE LOS ANGELES / JUICE TAIPEI / JUICE TAICHUNG

www.juicestore.com  |  www.juicestoreusa.com  |  www.juicestore.tw  |  JUICE ONLINE WeChat Mini Program
OUTERWEAR
LONG SLEEVED TEES
HOODIES
SHIRTS
CREWNECK SWEATSHIRT
LIFESTYLE GOODS
SHORTS
T-SHIRTS